@ Wacam
:

(24 April 2014 - 09:31 AM)

Bob, Liz. I know its difficult, but if possible please let us help!!!

@ Heather
:

(23 April 2014 - 05:43 PM)

Think its for emergency or to say something short :-)

@ lenxn
:

(23 April 2014 - 05:33 PM)

new to squawk box - is it like a continuous thread ?

@ Carlo Petrizzo
:

(23 April 2014 - 05:30 PM)

The Members Map is not loading up.... Pls Help!
@ divegirl
:

(23 April 2014 - 12:56 PM)

Nice one Heather!

@ harry
:

(23 April 2014 - 12:51 PM)

well done cup of tea required for celebration

@ Heather
:

(23 April 2014 - 12:42 PM)

Test results back, all are disease free :-)

@ Heather
:

(23 April 2014 - 12:34 PM)

Got test results back - all clear for disease!! :-)

@ Theori
:

(23 April 2014 - 12:11 PM)

Aww...Truman from trainedparrot.com is lost in Brooklin

@ Heather
:

(22 April 2014 - 12:41 PM)

@lisa - oh no! Sorry to michael!

@ Sarah-Jane
:

(21 April 2014 - 06:15 PM)

it's going down... im yelling timber!!!!!!

@ divegirl
:

(21 April 2014 - 05:05 PM)

I think it's because she put a emoticon in the title.. maybe? I can open it fine from the pc

@ Michael Reyn...
:

(21 April 2014 - 05:00 PM)

On Donna's Threadn after the title "sunshine" I have a oblong box and will not allow me to read her thread

@ divegirl
:

(21 April 2014 - 03:14 PM)

I don't think that is spam Heather, Michael has been a member here for 2 years

@ Heather
:

(21 April 2014 - 10:28 AM)

Lol!!

@ Theori
:

(20 April 2014 - 11:09 PM)

I've had 6 cream eggs today Heather...is that enough? xD

@ KeyMe
:

(20 April 2014 - 02:21 PM)

Oh lol

@ Heather
:

(18 April 2014 - 03:45 PM)

Cant get em in france... So everyones to eat a cream egg for me!

@ Heather
:

(18 April 2014 - 11:03 AM)

@keyme, i think its spam? :-/

@ KeyMe
:

(17 April 2014 - 08:06 PM)

OMG! Miguelmac, there is no way that bird should be having any sort of chocolate, it's highly poisonous to animals including birds.
We are 2,895 people and we have posted more than 181,007 messages!
Recently discussed forum topics:
Happy Birthday Kirsty (0) → Rhonda AKA Kensmrs, Today, 05:10 PM
Does He Look Healthy (2) → Liz, Today, 05:07 PM
Hello Everyone... (4) → CaptainHowdy, Today, 05:05 PM
Bird Seed Advice (3) → Julie, Today, 04:56 PM
Taking Bird On Holiday To France! (15) → Gillian, Today, 03:43 PM
Who Would Of Thought (12) → Julie, Today, 03:23 PM
Forum
Stats
Last Post Info

New members introduce yourselves here

596 topics
11,810 replies

Celebrate hatchdays and birthdays or anything else with us.

Anything that doesn't fit in the other boards

2,639 topics
49,756 replies

Show off your feathered friends in here

1,863 topics
29,847 replies

Make us laugh in here

The place to post any photos and videos not parrot related
Forum
Stats
Last Post Info

Chat here about anything and everything parrot related.


1,254 topics
19,116 replies

Are you worried about your feathered friend's health? Why not ask if anyone else has encoutered the same problem.


Hear about others cages and aviaries and ask any housing relate questions.


Ask about all the foods that can be fed and how best to feed them.


Does your bird pluck or are you worried about their feathers? Post here and get some advice from others that have had a similar experience.


Are you having trouble with your bird? Post in here and get advice from others who have gone through the same thing.


Post up your ideas for keeping your feathered friends amused.





How to keep your bird safe.


Are you a breeder or are you looking for a baby bird? Post here and someone will help you.

A forum for Breeders to tell us a little about themselves and their set up

Have you visited any good pet shops either online or in person?


Advertise your for sale items and post your links to Ebay, Pre-Loved etc when you spot a bargain

Post here is you are looking for your feathered friend or you have a bird that needs to find it's way home.


If your companion has fallen asleep for the last time post here so that they'll never be forgotten.


If you have had to make the sad decision to part with your feathered friend or you know a bird looking for a good home post in here.

News and Information on Parrot Sanctuaries and Rescue centres.
| | Forum | Stats | Last Post Info |
| --- | --- | --- | --- |
| | Show off your best photo's and maybe win a prize | | |
| | Any Non Photo Competitions | | |
| | Support forum for the quiz system | | |
| | Forum | Stats | Last Post Info |
| --- | --- | --- | --- |
| | Post up any forthcoming talks/lectures that might be of interest to members, | | |
| | Post up and shows of interest to the members | | |
| | Forum | Stats | Last Post Info |
| --- | --- | --- | --- |
| | | | |
| | Forum | Stats | Last Post Info |
| --- | --- | --- | --- |
| | Having trouble with the forum? Post in here and we'll do our best to help you. | | |
| | Just a few simple rules so that we can all enjoy the forum and keep in fun and friendly. | | |
| | Feel free to post in here any ideas you have for improving the forum | | |
Useful Links
Scarletts

The place for all your Parrot essentials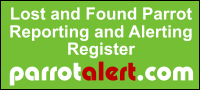 Latest Posts
181,007

Total Posts

2,895

Total Members

thechickenlady

Newest Member

408

Most Online
111 users are online (in the past 60 minutes)
32 members, 79 guests, 0 anonymous users (See full list)
Parrot797, Bob, Bing, Liz, Google Mobile, Jonathan, divegirl, Rhonda AKA Kensmrs, cyanoramphus, CaptainHowdy, Sarah-Jane, Annmarie8, Julie, tracey polito, bobbie, Kirsty, sharpey07, Ben, Luther, Emma127, thechickenlady, Ksolocj, Ann, Nikki h, reece, harry, debnuman55@gmail.com, bucko, Heather, kittyandtoby, Sohail, claire, Michael Reynolds, Jam
Members Online Today: 71 [Expand] [Collapse]
Most members ever online in one day was 106, last accomplished on 25 Feb 2014.

The following members have visited today:
Alison S, AndyWils, Ann, Annmarie8, Baldpoodle, Ben, Bob, bobbie, bucko, CaptainHowdy, ChristineM, claire, cyanoramphus, debnuman55@gmail.com, divegirl, eckythump, Emma127, emma1986, fannyann, Fuzzy, gavell, geveOwnenny, Gillian, Gisela, Gray, harry, Heather, Jacqui123, Jam, JoanH, John, Jonathan, Julie, karenTAG, KerstinB, Kirsty, kittyandtoby, kristi, Ksolocj, lenxn, LilianaCa, Liz, Luther, Lynn, marley, Mel, Michael Reynolds, MJG -Mike Jennie Gary-, Nigalius, Nikki h, Parrot797, reece, RegenaKin, Rhonda AKA Kensmrs, ryan, Salty, Sarah-Jane, Scarlett, sharpey, sharpey07, Skilzo, Sohail, sunnyring, tarantulamatt, thechickenlady, TiffandKari, times5, tracey polito, Tracy1430, Wacam, Wendi